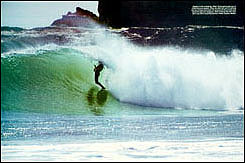 Surfer Magazine: January 1984 VOL. 25, No.1
Article: Sizzling Summer Sessions
Page:50-51

Caption: Styling it in the northlands, Arthur Deans gets swept up in a soulful summer session. When the afternoon surf is cranking and you're loose and tuned, the essence of all summers past flows through your synapses. Didn't it always feel this way? Don't you wish it could last forever?
Photo: Andrew Gaines.

Index | Surfing | Surfer | Break Out
© Andrew Gaines. All rights reserved.