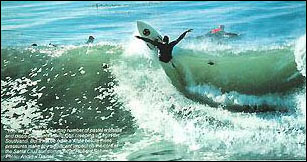 Surfer Magazine: August 1983 VOL. 8, No.1
Article: The Northlands
Page:82

Caption: "There is an ever increasing number of pastel wetsuits and disco-punk airbrushed jobs creaping up from the Southland. But it will be quite a while before these pressures make any significant impact on the core of the Santa Cruz surf community." Richard Schmidt.
Photo: Andrew Gaines.

Index| Surfing | Surfer | Break Out
© Andrew Gaines. All rights reserved.