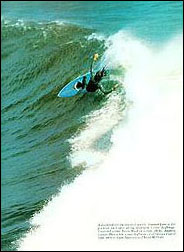 Surfing Magazine: OCTOBER 1980 VOL. 16, No.10
Article: Highway One Revisited
Page:29

Caption: A diamond among sorted jewels, Steamer Lane is the premier surf spot along the northern Coast Highway. Diamond cutter Kevin Reed in action.
Photo: Andrew Gaines.







Index | Surfing | Surfer | Break Out
© Andrew Gaines. All rights reserved.