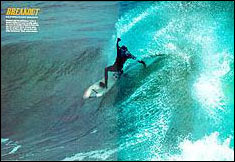 Breakout Magazine: OCTOBER/NOVEMBER 1982 VOL. 3, No.3
Article: The Twin-Fin
Page:40-41

Caption: Nineteen-year-old Jeff Spencer is one of Northern California's most versitile surfers. He is one of a handful of surfers in Santa Cruz who can surf twin fins in all-sized waves, from two to fifteen feet, and can do it with either foot forward.
Photo: Andrew Gaines.

Index | Surfing | Surfer | Break Out
© Andrew Gaines. All rights reserved.