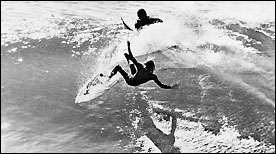 Breakout Magazine: JUNE/JULY 1982 VOL. 3, No.1
Article: The California Spirit
Page:58

Caption: Kevin Reed is one of the most inventive and truely radical surfers in California. Known and respected by surfers of all ages in his home area of Santa Cruz, Kevin is the kind of surfer that when he goes out, other surfers gather around to watch him.
Photo: Andrew Gaines.


Index | Surfing | Surfer | Break Out
© Andrew Gaines. All rights reserved.